How to Order
Mazal Tov on your coming wedding!
In order to get started please follow the following steps:
1 - Find a design that speaks to your heart from the selection offered here- Ketubah Shop and put it in your cart.
2 - Choose a text from the Ketubah Text Page  (You can also send me your own personal text to eleyori.art@gmail.com)
3 - Fill in this form with your details Ketubah Form
FAQ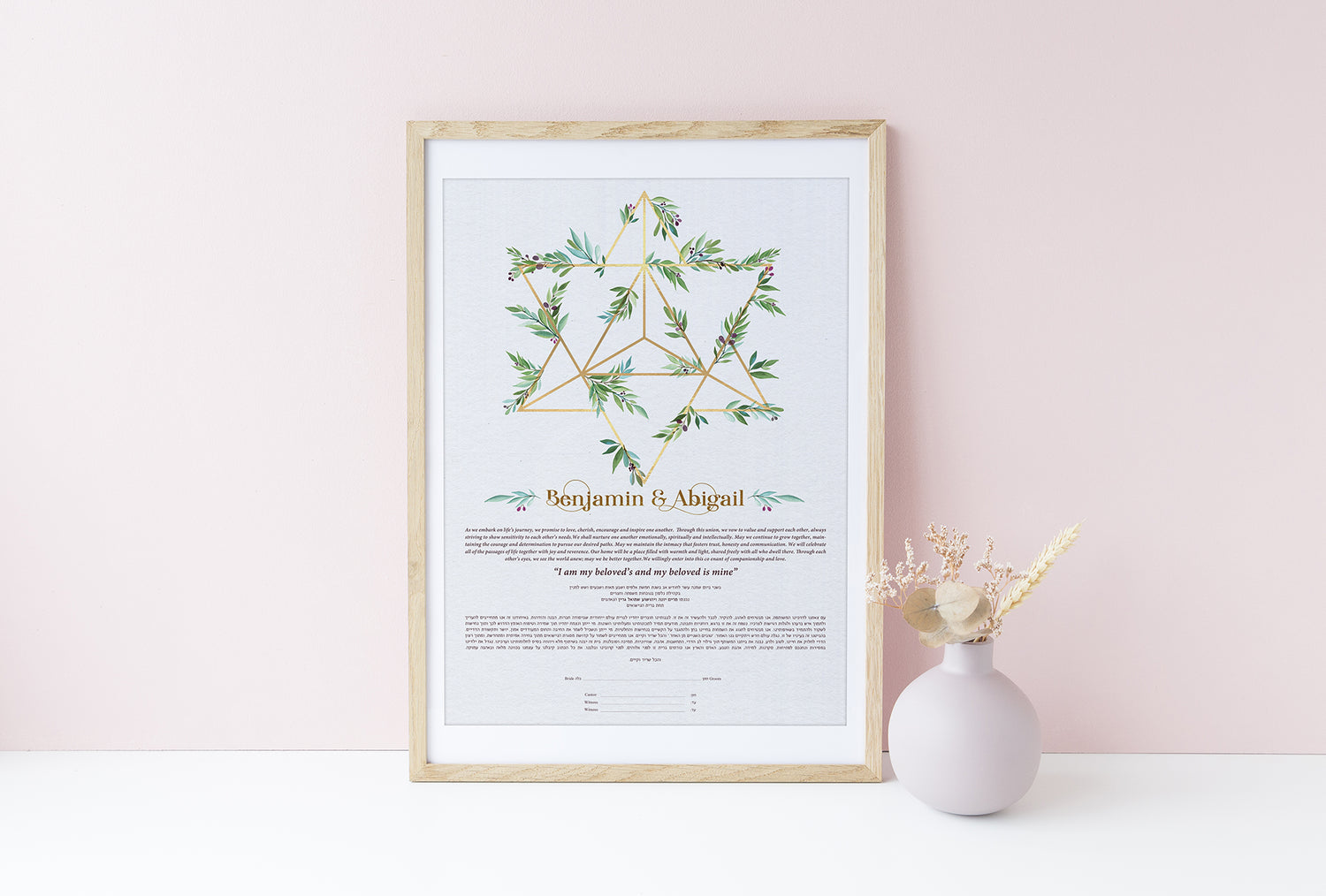 What is included in the cost of my Ketubah?

♥ A museum-grade archival cotton paper print of your fully personalized Ketubah (no two are alike) ready to be signed, displayed and framed.

♥ All revisions and/or edits to the wording and design of your Ketubah are included.

♥ A digital proof of your Ketubah for your final approval before printing.

♥ FREE SHIPPING within North America. *Must be ordered 6 weeks in advance.
I'm not Jewish. Can I still have a Ketubah?

Most definitely! Regardless of your religious affiliation you can incorporate the concept of this beautiful tradition into your Non-Jewish, Interfaith, multicultural or secular wedding ceremony.
Should I consult my officiant before I choose my Ketubah text?

Yes, although this ultimately depends on the type of ceremony you are having. If you are having a more traditional ceremony, it is certainly recommended that you consult with your officiant before making the selection for your Ketubah text.  Once you have decided on your text, a digital proof will be emailed to you before it is finalized. It is further recommended that you provide this proof to your Rabbi/Cantor/officiant for their approval before finalizing your selection.
Can I Mix and Match texts?

Absolutely. There may be some restrictions on mixing and matching texts depending on the type of ceremony you are having. It is best to confirm the type of Ketubah text you may require with your officiant before making a final selection of your text.
How long will it take to make my Ketubah?

It typically takes between 2 to 4 weeks to achieve the finished product (not including shipping time). This will vary depending on the level of customization you are looking for. It's always better to start the process and order the Ketubah far in advance to leave time for changes and adjustments you may want to make,  and allow for a more involved experience.

But of course, things don't always go as planned. That's why I offer rush orders too! Just check the ASAP box when you make the order.
Does my Ketubah come framed?

No. Your Ketubah is left unframed for your ease for signing at the wedding. 

There is an option to have your Ketubah mounted on a artboard (Foam core) for an additional charge. Artboard provides a firm surface for prints intended for framing and automatically increases the perceived value and quality of the print. The Ketubah will be flush with the artboard. 

If you do wish to have your Ketubah framed, I can offer a great selection of frame styles to choose from at an additional cost. 
Can you translate our ketubah to Hebrew?

Ken (yes) I can translate your wording to Hebrew. There may be an extra fee applied to this service.